Superior video surveillance
& data analytics
Superior video surveillance & data analytics
Customized for QSR, C-Store and Retail businesses with
a low total cost of ownership and flexible payment options
Customized for QSR, C-Store and Retail businesses with a low total cost of ownership and flexible payment options
A cloud-based system for retail loss prevention and business optimization
March Networks Searchlight™ combines enterprise-class, reliable video management with intelligent software applications to help QSRs, c-stores and other retailers cut losses from theft, oversee operations, improve service, and drive profitability.
Available as a cloud-based solution, Searchlight for Retail as a Service provides superior value with a low total cost of ownership, thanks to March Networks' flexible payment options and highly reliable recording technology. Our robust hybrid NVRs feature a less than 1% failure rate and are proven to operate in many retail deployments for more than 10 years.
This rock-solid product design is combined with Searchlight's intelligent data analytics, resulting in a highly effective loss prevention and business optimization platform. Every aspect of Searchlight helps retailers detect and report on losses, improve operations, enhance safety, and migrate to IP video cost-effectively and at their own pace.
The best part? It's fast and easy to get started. March Networks deploys, manages and maintains the solution on your behalf with the help of your March Networks certified partner.
More than 200,000 security system installations worldwide.
March Networks solutions are trusted by more than 300 retail brands and more than 600 financial institutions worldwide.
Key Searchlight advantages
Get a complete view of your business through video while protecting profits and improving store operations.
By integrating high-quality surveillance video with POS transaction data and business analytics, Searchlight reduces investigation time from hours to minutes, and alerts franchisees about things like instances of potential theft; transactions being conducted with no customer present; and occupancy and speed of service.
(Click on each icon to preview the feature)
Quickly locate suspicious transactions 
with POS exception-based reports integrated with video
With Searchlight's advanced POS integrations and analytics, you'll enjoy convenient exception-based reporting tools that let you rapidly search by store location, employee, and transaction type or amount. Review full receipts with associated video for rapid verification of facts.
New video auditing service now available
For March Networks Searchlight for Retail as a Service customers, we are now offering Operations Audit as a Service, which provides you with automated emails showing a series of snapshot images from your preferred cameras at the most critical times of the day.
With this service, our March Networks team sets up and configures the Operations Audit images to display within our Searchlight software. We also configure the system to send automated daily email reports displaying the images so you can easily see what's happening at each of your locations, discern operational issues and improve performance.
---
Backed by the industry's most reliable recorder
Our powerful, feature-rich network video recorders (NVRs) are the most reliable in the industry.
The units' embedded, Linux-based operating system helps reduce issues that can plague PC-based appliances. All March Networks' NVRs and IP cameras also pass rigorous IT testing, including ethical hacks to assess and resolve potential cyber weaknesses. We use independent third-party penetration testing to further confirm security integrity and proactively monitor and communicate cyber issues through a formal Security Updates and Advisories program.
Depending on your camera requirements (IP, analog or HD analog), you can choose from hybrid, tribrid, and all-IP recorders, which can accommodate up to 64 channels per recorder.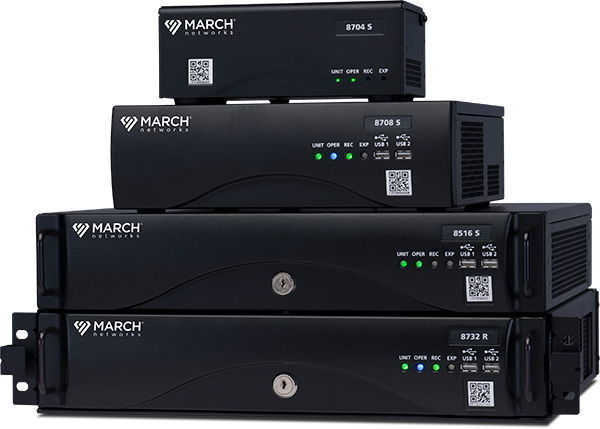 Embedded, Linux-based, and purpose-built
Spend more time performing your job, and less time dealing with the maintenance issues that can plague a PC-based recorder.
No loss of data
The internal battery backup guarantees a systematic shutdown in the event of an unexpected power loss.
100% protection, the video is always there
Hard drive mirroring ensures redundancy in the event of a hard drive failure; the video footage is always there when you need it.
Continuous operation
In the unlikely event that all hard drives should fail, the recorder will continue to operate and report the specific failure.
Need to keep video for 30 days or more? No problem! Our hybrid NVRs come equipped with hard drive options that deliver up to 72 TB of storage.
March Networks Security Cameras
Our systems support both IP and analog cameras.
Choose from our portfolio of high-quality IP security cameras for the most reliable and clear video surveillance – no matter what your application.
March Networks security cameras easily handle challenging lighting conditions, like intense backlighting and glare from reflective surfaces ​thanks to their low-light technology. Rugged housings protect the security cameras from vandalism, extreme temperatures, high humidity, dust, and water​; and our security cameras can help you reduce storage and bandwidth usage by 50% or more in most applications, allowing you to save money when storing video for long periods of time​.
Our new ME6 Series IP cameras offer analytics powered by Artificial Intelligence (AI), for the most accurate detection of people and vehicles in any environment.
Capable of de-warping both live and recorded video
Actual footage from the March Networks Customer Experience Center.
March Networks Command™ Mobile smartphone app
Check in on your store from wherever you are and get convenient access to live and recorded video from your personal smartphone or tablet
We ensure your system is running smoothly
So you can stay focused on your business!
With Searchlight for Retail as a Service, you never have to worry about camera disconnections or other technical issues. Our team of trained professionals monitors and maintains the health of your deployment so you and your staff can focus on other priorities. We'll apply software updates remotely and even dispatch a technician to your location, if required.
---
See what's going on – without going in!
The March Networks Alert Communication Tool (ACT) delivers real-time notifications—based on incoming alarms and alerts—via Command Enterprise Software, to third-party devices like instant message, email and smart lighting systems. These notifications are from alarms that have been configured on your March Networks recorder, including AI-based alarms from the ME6 Series IP Cameras, which are equipped with video intelligence. The stopped vehicle analytic alerts you in real-time about customers arriving for curbside pickup. You can also see a visual record of all curbside deliveries for future review, and businesses and municipal governments can use the analytic to help with parking laws and enforcement.
Hear what our customers are saying
Contact us to learn more about Searchlight for Retail